商品説明
FANUC ROBONANO α-NMiA is an Ultra precision machine that challenges the limits of machining by taking advantage of the latest FANUC CNC and Servo control technology.
This machine can be used for machining of complex shaped core and high precision parts such as automotive, watch, optical electronics, biotechnology and medical industries.
This machine is suitable for milling and scribing workpieces up to A4 size (300x210mm).
Machining version ultra-precision machine with simultaneous 5-axis control
ROBONANO α-NMiA can be controlled 5-axis moving simultaneously with FANUC CNC and servo control technology.
Processing strategies are milling with rotational tool, and scribing with bite-type tool.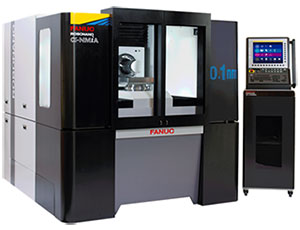 Suitable machining specification for automobile and watch fields
ROBONANO α-NMiA is a solution for increasing demand such in automobile and luxury parts field.
ROBONANO α-NMiA is capable to machine A4-size to satisfy larger core machining especially in automobile optical cores.
Machining
You can select an optimum machining method according to your specific purpose.
Milling
It can be used for the various type of precise machining with air-turbine spindle.
It can be used for the complex shape such as small diameter hole, microgroove, microlens array, watch parts and free-form surface.
Scribing
By using the non-rotation tools, It can be used for the complicated shapes such as micro pattern that changing the direction, angle, depth and pitch continuously.
Variety of design such as diffractive lens, hologram optical element, micro flow channel and biochip can be improved by changing the angle of grooves.
It can be used mold for automotive parts such as HUD (Head-Up Display) by enlarged the stroke.
Display and operation of peripheral devices in ROBONANO operation screen (SMS: Smart Measurement Setup)
It can be operated and displayed the peripheral devices by integrated the each screens in the setup.
It is realized the enhancing the ease of use without using the each monitors and wiring.
About the test cutting
FANUC cooperation accept the test cutting by "ROBONANO α-NMiA" to understand the possibility of ultra precision machining.
Please contact the following inquires about the shape, material and accuracy.
Contact
For particulars apply to the ROBONANO Sales Dept. :
FANUC CORPORATION (Japan) TEL: 0555-84-5371, 0555-84-5381