New product FANUC Series 30
i

/31

i

/32

i

-MODEL B Plus
FANUC has developed the FANUC Series 30i/31i/32i-MODEL B Plus as the successor to the FANUC Series 30i/31i/32i-MODEL B, by significantly enhancing basic functions and pursuing usability.
Brand new design of display unit and screen
A new black flat design display unit was added to the lineup. The size of the display unit ranges from 10.4" to 21.5", allowing the selection of the most suitable size. The 21.5" LCD is equipped with a newly developed capacitive touch panel that does not malfunction in an FA environment.
FANUC's latest CNC and servo technologies
Fine Surface Technology
High speed processing of machining programs that are output from CAD or CAM and generation of smooth tool paths enable high quality machining.
Fast Cycle-time Technology
Cycle time is reduced through means such as acceleration or deceleration according to the operation status, maximum use of spindle capability, and reduction of non-machining time.
5-axis Integrated Technology
Improved usability of 5-axis machine tools by thoroughly supporting all 5-axis machining processes, from machine setup, program creation to machining assessment.
Enhancement of the standard functions (customization functions)
FANUC's customization functions; FANUC PICTURE, C language executor, and macro executor, are included as standard functions. The drawing capabilities of the latest version of FANUC PICTURE has been drastically improved, providing more flexibility in creating suitable screens for machine tools.
Enhancement of standard functions (network function)
Network functions including FOCAS/Ethernet, FL-net, EtherNet/IP, and PROFINET come as standard in the FANUC Series 30i/31i/32i-MODEL B Plus.
This series can be connected to peripheral equipment or applied to IoT (Internet of Things) and QSSR (Quick & Simple Start-up of Robotization) without having to add an Ethernet board.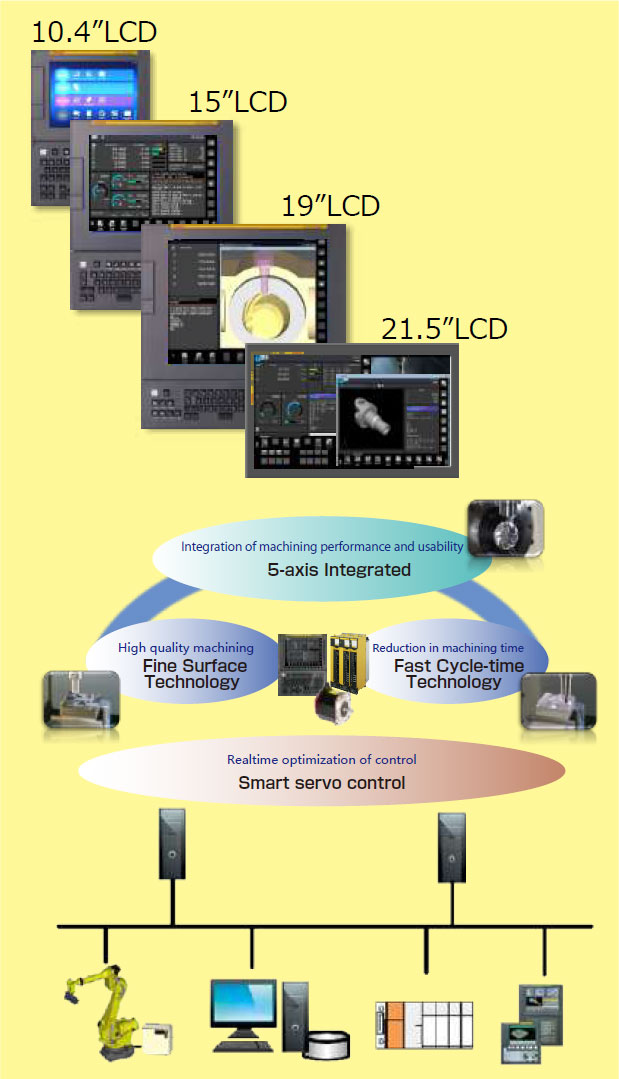 (FANUC News 2020-I)