Basic Approach
FANUC values coexistence with our local communities. Many of our employees have moved from other areas to Yamanashi Prefecture, in which our Headquarters is located, following a local lifestyle while working close to home. FANUC employees rely on the organizations and facilities of the local government and community in their daily lives. Accordingly, FANUC makes efforts to contribute to the local community, such as by securing human resources from technical high schools in Yamanashi Prefecture every year and making donations to the community. In addition, FANUC values contributing to society. Through the FA Foundation, we support research on factory automation (FA) and industrial robot technologies, and participate in the programs for training future robot engineers led by the Ministry of Economy, Trade and Industry.
Supporting Research through the FA Foundation
The FA Foundation was founded in 1989 by Dr. Seiuemon Inaba, the current Honorary Chairman of FANUC. FANUC donated funds at the time of establishing the Foundation, and has made donations to cover its operating costs since that time.
The mission of the FA Foundation is to contribute to society by improving automation technology, and automating machinery and machine factories, primarily through official commendations of research achievements related to factory automation (FA) and industrial robot technologies.
In fiscal 2019, a total of eight outstanding theses were commended by the Foundation.

FA Foundation (In Japanese)
The Consortium of Human Education for Future Robot System Integration
On December 18, 2019, under the initiative of the Ministry of Economy, Trade and Industry, industry players, including FANUC and the National Institute of Technology, signed a memorandum for establishing the Consortium of Human Education for Future Robot System Integration to develop human resources in robotics. This initiative aims to match schools and educational institutes with industrial players in the robotics field. It is hoped that such matching will introduce students and teachers to internship programs, promote the dispatch of robotics engineers from companies to schools, and facilitate the development of future human resources in the robotics field.
FANUC contributes to the development of human resources in robotics, through activities such as internship programs for teachers and the dispatch of lecturers to technical colleges and technical high schools.
Contributions and Donations to the Community around FANUC Headquarters
FANUC has donated items such as testing machines and other equipment to the Fujiyoshida Municipal Medical Center, which often assists us with employee health management, thorough examinations, etc.
In addition, we make ongoing contributions to the Yamanashi Prefecture Community Chest's "Red Feather Community Chest", and provide food support to the non-profit organization, "Food Bank Yamanashi".
In 2020, FANUC supported the "Let's Cheer Up Healthcare Workers! Donation Project for COVID-19 Countermeasures" organized by Yamanashi Prefecture, and donated ¥50 million as part of support for COVID-19 countermeasures.
We also donated face masks to the government of Yamanashi Prefecture, where FANUC Headquarters is located, and to Fujiyoshida Municipal Medical Center.
Up to 2019, we had donated 1,570 ㎡ of land for road use for village road-widening projects in Yamanakako-Mura and Oshino-Mura.
In January 2021, we built shelters at two bus stops that had no roofed structures and therefore offered users no protection from the wind or rain, and donated these shelters along with the road land to Oshino-Mura.
Blood Donation Drives
For five days between October 1 and 8, 2020, FANUC Headquarters held a blood donation drive by the Yamanashi Red Cross Blood Center for the fourth time in as many years. The number of employees who donate blood is increasing every year, reaching 464 in 2020.
In 2020, FANUC received the Governor's Commendation for Blood Donation Promotion, which is presented to organizations that cooperate with blood donation at least twice a year or that have had more than 50 blood donors for three consecutive years.
Our Mibu Factory in Tochigi Prefecture has also been conducting blood donation drives since 2018, with 70 employees donating blood in two days from October 6 to 7, 2020.
As a familiar social contribution activity, FANUC will continue these blood donation drives with the cooperation of our employees.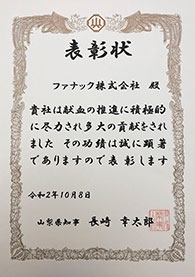 Local Employment around FANUC Headquarters
FANUC Headquarters take initiative for securing human resources from technical high schools in Yamanashi Prefecture every year, accepting them for factory tours prior to their application and providing them with opportunities to experience manufacturing sites.
Support for Reconstruction in Disaster Zones
FANUC assists in the restoration of disaster-stricken areas, in order to help disaster victims. Such activities include donations at the time of the Great East Japan Earthquake in March 2011, the torrential rains in the Kanto and Tohoku areas in September 2015, the Kumamoto earthquake in April 2016, and the heavy downpours centered on western Japan in July 2018, as well as recovery support activities for disaster victims, to enable affected customers to resume operations as quickly as possible.
Employees also engaged in volunteering activities in the aftermath of the Kumamoto earthquake.
Inviting a City Gas Station to the Area
FANUC invited a city gas station to be built in the Headquarters area to reduce power consumption, which helped promote the use of city gas among local residents.
Harmonization with Local Landscapes
Oshino-Mura, where the Headquarters area is located, offers a harmonic landscape where you can view a lot of nature, such as lakes, ponds and rivers created by Mt. Fuji's subsoil water, and man-made scenery like farming fields and thatched roofs, with Mt. Fuji in the background. The local governments of Oshino-Mura and Yamanakako-Mura have established landscape plans for the preservation of the landscapes, and FANUC is also actively working with those plans.
Most forest resources owned by FANUC consist of trees planted after the war. At FANUC Headquarters, following guidance from the Yamanashi Forestry and Forest Products Research Institute, we maintain and manage trees according to the FANUC Forest 100-Year Plan, aiming to restore forests to a state in harmony with the region. We are currently promoting a plan to replace the artificially planted coniferous trees with rich broadleaf trees that bloom, bear fruit, and allow coexistence with small birds and animals.
All exterior walls of FANUC's existing factories had previously been painted yellow, but when they were repainted during major refurbishments of the individual factories, gray is used as a base color and the amount of yellow used has been limited (e.g., 20% or less of external walls in the Headquarters area, 5% or less of external walls in the Hino area).