IoT New Functions: FIELD system Solutions
Solution for Improving Operation
Although conventional IoT systems made it possible to see that a machine tool or other device was not in operation, the explanation of the cause was not provided. The new Solution for Improving Operation visualizes the reason of the stop by analyzing data collected from the device in more detail. This supports the development of countermeasures and improves the operating rate of machines and devices in customers' factories.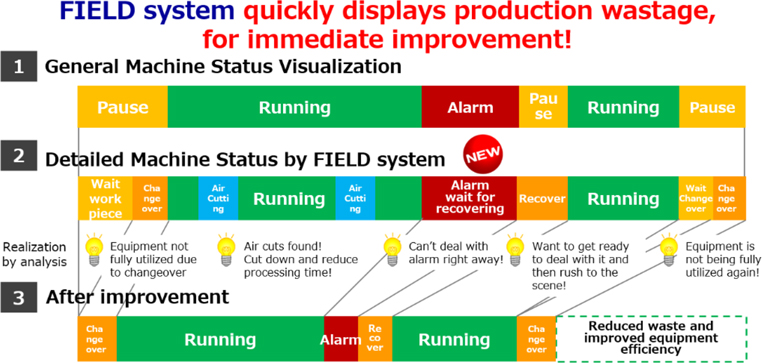 Solution for Improving Quality
Previously, it took much time to conduct on-site investigation to identify the cause of defects that were found in the measuring process after machining. The Solution for Improving Quality is a countermeasure which collects data about the quality during machining, and organizes the data in correlation to measurement results, thus contributing to reducing the time to find the cause.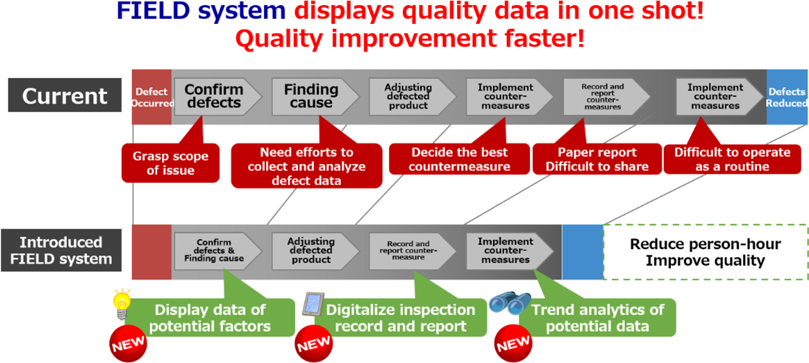 Solution for Facilitating Maintenance
Previously, when there was a sudden failure, identifying the cause took time, due to such issues as not being able to reproduce the problem. The Solution for Facilitating Maintenance helps identify the cause of a sudden failure by storing the operating data of the device at the time of failure. The Solution retrieves accurate data concerning the operation of a device to facilitate time-based maintenance, as well as gathering and monitoring data of sensors and other equipment to facilitate status-based maintenance. With these capabilities, this Solution helps prevent sudden failures.
(FANUC News 2021-I)

More information for FIELD system