Introduction of Compatible Peripheral Devices for Plugin
Easy Installation of Peripheral Devices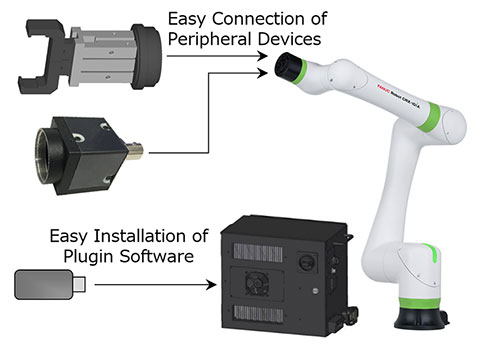 FANUC Robot CRX series have an interface that enables easy connection of peripheral devices such as gripper, vision, and so on.
And it also offers easy installation of plugin software specifically for the peripheral device for quick start.
This page introduces CRX compatible peripheral devices for Plugin interface.
Please click the following icon to move to the website of each peripheral device supplier.
* Tablet TP is required to use the plugin software. Depending on the peripheral device, robot options may be required, so please check with the supplier of each peripheral device.
Menu
Grippers, Tools and Carried Sensors
Pedestals, Carts
Others
Application for Plugin Software Development
FANUC provides the Plugin Software Development Kit (SDK) to developers who wishes to participate.
Please submit an application from the following Plugin software introduction leaflet for developers.

Plugin Software Introduction Leaflet for developers (PDF file)