FANUC Awarded as a Clarivate Top 100 Global Innovator 2022
FANUC CORPORATION has been recognized as being one of the top 100 global innovators for 2022, for its activities in R&D and intellectual property
March 7, 2022
FANUC CORPORATION
FANUC CORPORATION has been selected as one of the top 100 global innovators for 2022 by the global leader in providing information and analytics, Clarivate Plc, on February 24, 2022.
FANUC has also been recognized in 2012 and 2013, making this the third time the company has received this honor.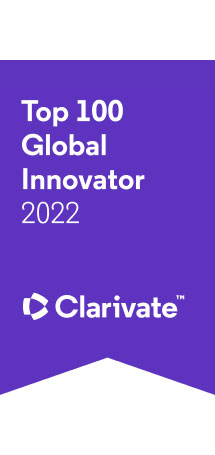 Clarivate employs the world's most comprehensive patent information database, Derwent World Patents Index (DWPI), used by patent offices throughout the world, and selects the top 100 global innovators through their unique criteria for evaluating by the four factors consisting of "success," "globalization," "influence," and "technical distinctiveness." The list of the top 100 innovators has been announced every year from 2012, and this will be the 11th time.
FANUC has continued to provide indispensable values throughout the world through incessant technological innovations in the field of factory automation, under our basic principles of "Genmitsu (Strict Preciseness) and Tomei (Transparency)." By doing so, we have strived to increase our worth as a company, as well as contribute to the creation of a sustainable society. In order to develop highly competitive products and release them to the market, we have narrowed down our business to factory automation which is our area of expertise, and have pursued the enrichment of our intellectual property, besides actively engaging in research, development and investment.
FANUC will develop and use intellectual property which has value, into the future, in line with our business strategy and development strategy, to maintain competitive advantages, and achieve sustainable growth.
For information on FANUC's activities regarding intellectual property, see
https://www.fanuc.co.jp/en/sustainability/governance/intellectualproperty.html
For details on "Top 100 Global Innovator 2022," see https://clarivate.com/top-100-innovators/