Overview
FANUC has been focusing its energy on training our customers, as well as domestic and overseas service personnel since its foundation, in order to promote automation and robotization in our customers' factories around the world.
In 1982, FANUC established FANUC Training Center which produced more than 100,000 graduates. In April 2019, we increased its scale and established FANUC ACADEMY as an education facility with enhanced content. FANUC ACADEMY offers training courses related to all of our products, from CNCs, servos, and laser oscillators to ROBOTs, ROBOMACHINEs, and FIELD system, and offers training courses ranging from two days to three weeks, according to the needs of trainees.
During the one-year period from April 2018 to March 2019, a total of 5,186 trainees attended from Japan and overseas.
In addition, FANUC ACADEMY is also working with training schools established in the United States, Europe, and China to build a system for conducting training based on FANUC's global standard. The ACADEMY is intended to nurture sophisticated customer service as it provides a high level of technical education to personnel in charge of training and service throughout the world.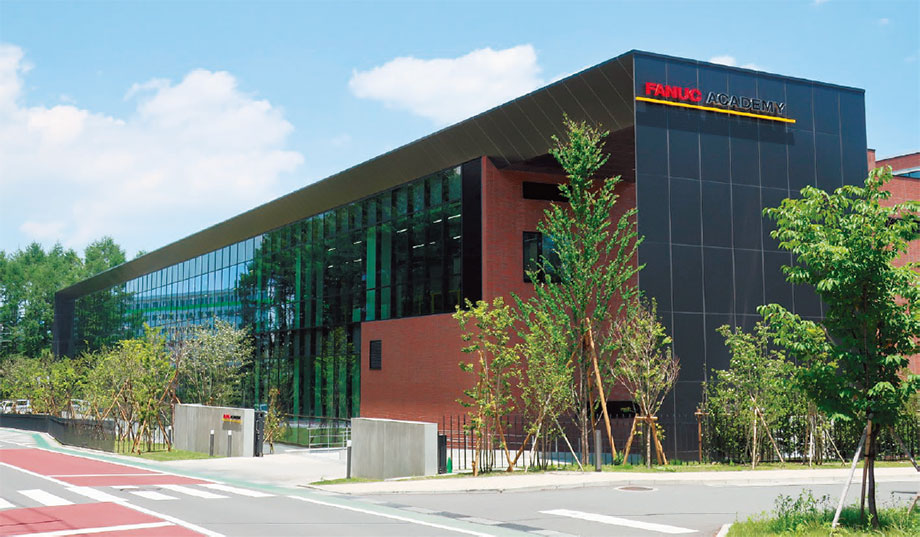 The robot education initiative was continued in fiscal 2019, with the FANUC ACADEMY giving factory tours to students from local technical high schools, providing them with opportunities to experience actual manufacturing sites first-hand.
The students presented this initiative to visitors at the opening seminar of the International Robot Exhibition 2019, which was very well received.

Click here to see the initiatives taken at FANUC ACADEMY in response to COVID-19.
Systems to Enhance Educational Effectiveness
| | |
| --- | --- |
| Workshop classrooms | Actual products are installed in our classrooms, so that trainees can practice directly on CNCs or machines by their side, while listening to lectures. |
| e-Learning | A tablet is provided for making preparations and reviewing training materials through e-Learning. Trainees can learn in the classrooms during breaks and in the guest rooms at night. |
| Abundance of machines for practice | For training on CNCs, ROBOTs, and ROBODRILLs, one unit is provided to each trainee. |
| Guest House | There are 110 spacious guest rooms. There is also a cafeteria and onsen facilities (hot spring baths) |
FANUC ACADEMY's Satisfaction Rating and Number of Trainees
We have revised our systems to thoroughly enhance educational effectiveness, and have received a rating of 4.5 or higher out of 5 on the trainee satisfaction survey, since 2019.The average satisfaction rating for the fiscal 2020 was 4.57.
FANUC ACADEMY's Satisfaction Rating and Number of Trainees
* The number of trainees decreased from February to March 2018, due to the transition from FANUC Training Center to FANUC ACADEMY. During this period, the Nagoya school continued to offer training.
* Due to COVID-19, the number of trainees decreased 2020.
Respect for Trainee Diversity
When we built FANUC ACADEMY in 2018, we set up a Muslim prayer room for trainees. This was done to ensure the facility takes into consideration the religions and customs of employees and trainees from around the world.
Food served at the facility includes vegetarian items and gluten-free items.