Framework to Promote Product Quality and Safety
FANUC promotes activities to imp rove quality in all processes, from development and design of products to product quality buildups and after-sales services following manufacturing and shipment, in an effort to enhance the quality, safety, and reliability of its products.
The Research & Development Promotion / Support Division functions across multiple research & development divisions to ensure the quality and reliability of products and to ensure the prevention and prompt resolution of issues about quality. At the same time, a section devoted to reliability development has been established in each research & development division in each business division engaged in product development and design. In addition, research & development divisions regularly share information on both development and technology in various technology meetings and use such information during development.
Through after-sales services following manufacturing and shipping, we have built a system to feed back reliability issues discovered in the field to production divisions and research & development divisions and to continue improvement through the PDCA cycle.
FANUC strives to ensure the safety and quality of its products through a quality management system based on ISO 9001. We carry out checks through design review and verification in order to meet the requirements of laws, regulations and standards as well as the requirements of individual customers. In addition, we conduct risk assessments of our products.
FANUC conducts the following ongoing activities with the aim of improving and enhancing product quality.
Technology meetings (held for executives of research & development divisions)
Reliability development technology briefings (held for researchers)
Reliability meetings (held in each research & development division)
Quality meetings (held to improve manufacturing quality in production divisions and research & development divisions)
"Visualization" of Quality and Reliability
The status of quality and reliability in all processes, from product design to manufacturing and after-sales services, is monitored in order to promptly respond to defects. We collect data from our after-sales services, analyze it, identify issues, and give feedback to our production divisions and research & development divisions. These activities improve our products' quality and reliability.
Reliability Development Technology
We promote the development of a framework to design and manufacture highly reliable products, as well as sharing of knowledge, in order to enhance the reliability development ability of our researchers.
The Research & Development Promotion / Support Division works with members of the reliability development departments in each research & development division to regularly review methods to improve reliability-related issues and proceed with standardizing reliability development methodologies.
In addition, the Defect Management Procedures have been established to systematize rules regarding response procedures when defects arise.
All defects that arise are registered in a database called the Defect Record, which centrally manages the entire range of processes, from the investigation of the cause to the measures taken. This allows us to "visualize" the progress of the response, and prevent any oversights. The knowledge and lessons of the Defect Record are utilized companywide, and have proven to be effective in terms of quality buildup and quality improvement measures, prevention of the occurrence and recurrence of defects, and the education of young engineers. Furthermore, the Reliability Evaluation Building has an area featuring lessons learned from past defects, where actually used products with quality and performance are displayed. This area is used to educate researchers by encouraging them to learn from past failures.
Reliability Evaluation Technology
As FANUC products are used in manufacturing sites, they are exposed to extremely harsh environments. In order to ensure that our products can operate stably for long periods of time under these conditions, while contributing to minimizing downtime in our customers' factories, we are promoting the standardization of evaluation tests by conducting them in a variety of surroundings.
The Reliability Evaluation Building, which opened in 2016, has a total floor area of approximately 22,679 square meters (103 meters wide × 198 meters deep), and houses a variety of equipment for thorough reliability verification.
This facility is equipped with dedicated test rooms, such as an anechoic chamber, an EMS (electromagnetic susceptibility) test room, a vibration test room, a mist test room, a variable temperature room, a variable humidity room, a capability limit test room, a noise measurement room, a submergence test room, a clean room, and a precision measurement room. In this facility, a variety of tests are performed while taking into account variations in data under various conditions, including the accelerated life test to evaluate long-term reliability.

Reliability Evaluation Building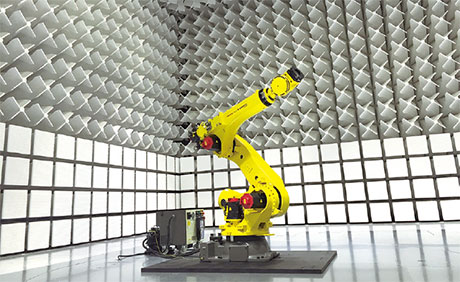 Anechoic chamber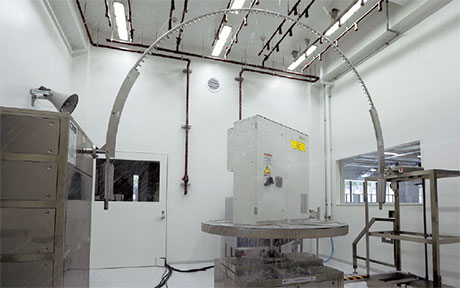 Mist test room
Ensuring Customer Safety
FANUC contributes to the improvement of safety and the minimization of downtime at its customers' factories through their safe and stable operation. To this end, it is essential to enhance product safety in order to protect operators from danger. FANUC engages in research and development to ensure a higher level of safety, and its FA, ROBOT, and ROBOMACHINE products comply with the relevant safety standards.
Complying with safety standards
We fully meet safety standards, such as ISO and IEC, and have been certified by certification bodies.
With ROBOSHOT, we are pursuing measures to meet the new safety requirements of injection molding machines issued in 2020 (ISO 20430). This will ensure the safety of operators and molding worksites in accordance with the new safety standards.
Dual Check Safety (DCS)
DCS complies with safety standards (IEC61508 SIL 2, IEC62061 SIL 2, and ISO 13849-1 PL d) and has been certified by certification bodies. Safety-related signals are duplicated for comparative monitoring. In the event of a failure of one hardware safety circuit, the second circuit detects the failure, thus maintaining the safety of the system.
Custom Programmable Machine Controller (PMC) safety function
In our ROBODRILL, the customer or system integrator can apply the abovementioned DCS function to the control of peripheral equipment that is additionally installed on the ROBODRILL. This will make the separate safety circuits and control equipment unnecessary.
Malfunction prevention function
The design gives consideration to safety, such as by halting and issuing an alarm in the case of accidental operations by the operator. In the future, we will work on a feature that stops functions pertaining to hazardous and accidental operations, as well as one that prevents such choices.
Environmental improvement of machining sites
We are replacing plasma cutting with laser cutting, by promoting CO2 and fiber laser machining technology. This effort will significantly reduce noise and dust at machining sites and improve the work environment.
Fully covered structure for high temperature parts
FANUC's unique structure features a fully covered injection unit, where the ROBOSHOT heater is mounted, in order to avoid the risk of operator contact with high temperature parts during molding operations.
Collaborative robots
Collaborative robots do not require a safety fence, because they securely stop operating when coming into contact with humans. These robots are used to assist in tasks alongside human workers, enabling operators to avoid heavy lifting, so that persons with less physical strength can perform tasks safely.
Smooth stop function
This function stops robots on a procedure that has been confirmed to be safe in the shortest possible time, in case of any abnormality.
Brake error diagnosis function
If a failure occurs on a brake while the robot is in operation or at rest, the power of the brake may decrease, causing the robot's gravity axis to fall. This function provides early diagnoses of such brake malfunction, and notifies the user in advance.
Product Design
In line with our "Simple & Smart" design policy and the human-centered design (HCD) concept, we create products that fulfill our users' requirements and greatly satisfy them, without being deficient or excessive. While complying with ISO, JIS, and local laws and regulations, we aim for designs that seriously take into consideration user-friendliness and safety. We are in the process of formulating related guidelines. Our new collaborative robot CRX, released in December 2019, gives the rough, rugged image of industrial robots a fresh new look. The clean, rounded lines of this novel design offer a soft external appearance that allows the operator to share space with the CRX comfortably.