Lifetime Maintenance
FANUC provides lifetime maintenance for its products as long as they are used by customers, even for models that are no longer in production. Lifetime maintenance makes it unnecessary for our customers to discard old models or purchase new models due to discontinued maintenance service, thereby allowing them to use FANUC products at a low cost for several decades.
We perform approximately 90,000 repairs per year in Japan, of which roughly 10% consists of products that were manufactured more than 40 years ago. FANUC's Repair Factory has a stock of over 2.6 million pieces of 15,000 types of repair parts, including old parts that are no longer in production, ready to repair used motors, PCBs, or units that are more than 40 years old.
Even in cases where some parts run out of stock, the Repair Factory has a system for finding replacement substitutes or redesigning them. In addition, old manuals are also digitized as part of our efforts for lifetime maintenance.
Units which have broken down are cleaned in a washing machine using robots or other means, and after being dried overnight in a drying furnace, they are repaired. Not only damaged parts, but also parts that are starting to deteriorate are replaced, to attain a quality in repair that is equal to a brand new unit.
We collect parts that have deteriorated and overhaul them for re-use, thus contributing to the reduction of waste.
The Repair Factory has performed over 1.8 million repairs thus far, and its know-how is utilized in domestic and overseas repairs, as well as being fed back to laboratories.
Example of repair for PCB, spindle motor and servo amplifier unit over 30 years ago.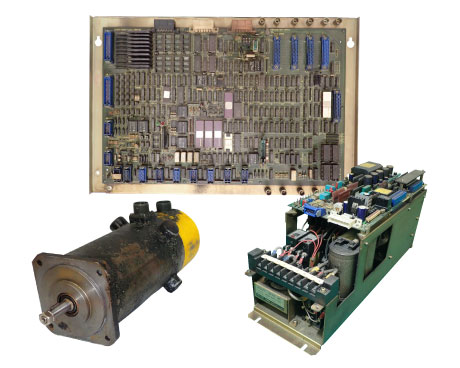 Before repair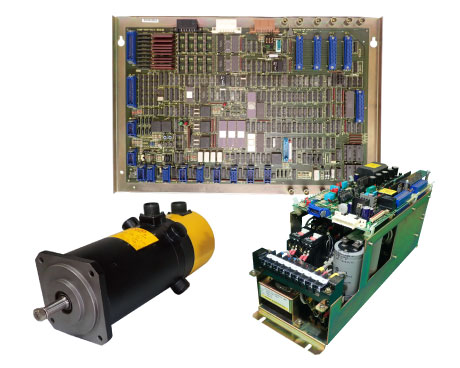 After repair
Providing Global Services
Based on the spirit of "Service First", FANUC provides lifetime maintenance for its products for as long as they are used by customers, through more than 270 service locations supporting more than 100 countries throughout the world.

Service
Basic Approach
Based on our spirit of "Service First", FANUC strives to improve customer satisfaction by providing prompt and careful services and lifetime maintenance.
Policy
Conforming to the spirit of "Service First", FANUC provides lifetime maintenance to its products for as long as they are used by customers, through more than 270 service locations supporting more than 100 countries throughout the world.

Promotion Framework
In order to promote our basic policy, once a year, we hold the Global Service Conference, organized by the President and CEO, which is attended by senior executives of Group companies and service personnel from locations around the world, as well as key members from FANUC Headquarters.
In 2020 and 2021, we used online discussion boards to hold conferences, and just as in real conferences, participants shared case studies and knowledge about topics like parts and technical information, maintenance tools, service training, and service DX through various working group activities to improve and strengthen our services.
Goals
We aim to improve customer satisfaction by providing better services. To this end, we make efforts to shorten the average waiting time for services, and increase the percentage of maintenance parts that can be delivered immediately on demand.
Initiatives
To Realize Flexible Services
More than 2,300 service personnel and support staff (all are FANUC Group employees) around the world handle phone calls, provide services at customer sites, and manage maintenance parts. Units replaced at the request of our customers are repaired at Repair Factories in 14 locations around the world to be reused. Using these units in subsequent maintenance services leads to waste reduction and the effective utilization of resources.
In our domestic services, we are striving to enhance mobility, primarily by having all field service personnel carry a mobile device, so that representatives can visit customer sites as quickly as possible, based on the current locations of all personnel.
The realization of flexible services requires all types of maintenance parts that amount to an enormous quantity.
FANUC has a global parts warehouse in Japan to store maintenance parts for which there is extremely low demand. We also strive to visualize inventory around the world.
By globally managing our inventory of maintenance parts, regardless of how old or rarely used they may be, they are stored at some locations around the world. Inventory data is updated to provide parts as quickly as possible. In addition, we prepare an overall demand forecast for maintenance parts, in order to utilize the data to streamline the supply of parts. Furthermore, we established additional core locations in Japan as part of our business continuity plan (BCP), to secure the continuity of our services. We have also ensured that we can continue providing lifetime maintenance by establishing call centers and parts warehouses in the two locations of Hino, Tokyo and Komaki, Aichi, as well as by mirroring the servers that contain accumulated information, including past service data.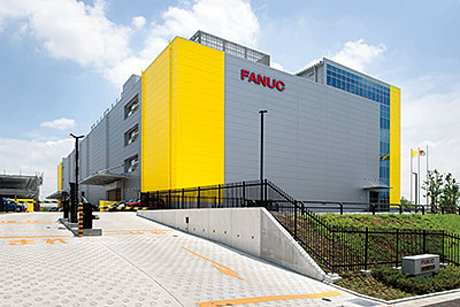 Nagoya Service Center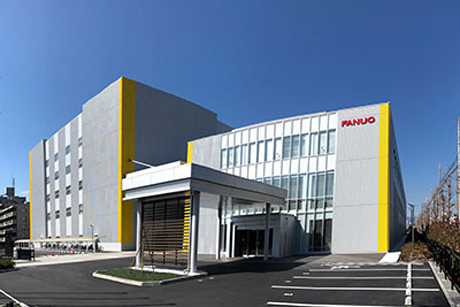 Hino Branch Office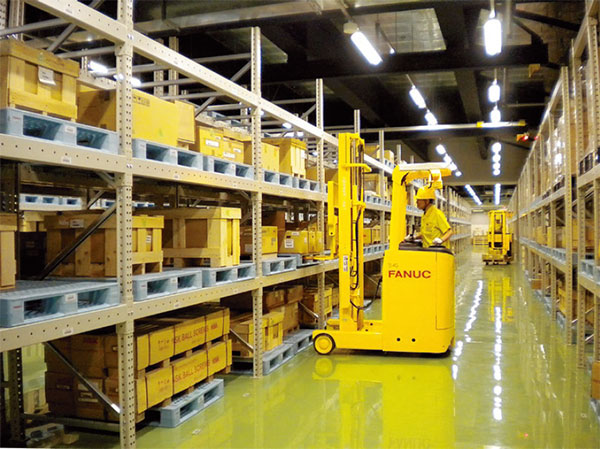 Enhancing Our Service System
In our after‒sales service, in addition to carrying out repairs in a short time, we are strengthening our efforts to implement preventive maintenance by detecting signs of trouble before breakdowns. Accordingly, we are encouraging preventive maintenance in order to improve operating rates in our customers' factories. In our call centers, we accept inquiries regarding repairs in case of failures and parts sales.
We have established and deployed a toll-free line in Japan. Call centers use a dedicated reception software which are updated as needed, reflecting requests from service personnel and operators.
Similar software is used in our overseas offices tailored to the circumstances and characteristics of each country.
Key data from individual maintenance reports is shared among countries, and utilized primarily to improve reliability, and develop jigs and tools.
To accommodate the new normal era created by COVID-19, we are pursuing new types of services, such as remote diagnosis and online support, as a project for service DX.
Our first step was to launch FabriQR Contact, a contact service using QR codes, in Japan in October 2020.
Services in Japan
We accept calls until 5:10 p.m. on Saturdays for customers who operate their factories on weekends.
After long public holidays and other times when there is a heavy concentration of calls, all staff in each location, including veteran field engineers, handle calls, and calls are automatically forwarded from the call center to available lines at locations to prevent a fall in response rate.
We also provide the CS24 service (for a fee) to customers who request availability at night and on Sundays and holidays.
Some overseas offices have individual contracts with customers to provide maintenance services 24/7.
In addition, we provide a maintenance contracts after expiration of the warranty period. Customers who have signed the contract to prepare for any product failures after the warranty period expires, are entitled to repair services which are free of charge within the contract term for an unlimited number of times (certain parts and supplies are excluded).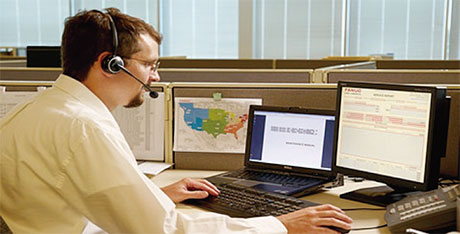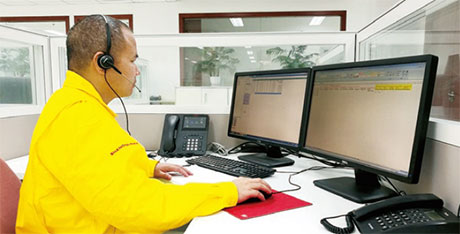 Membership Website
A membership website established in April 2015 provides downloads of electronic data for outline drawings to members free of charge. There are two types of membership, i.e., general membership open to the general public amounting to around 28,000 members, and customer membership limited to actual users of FANUC products currently consisting of around 10,000 members (as of July 30, 2021).
Customer membership website is a very convenient site where a customer can download materials including electric manuals and purchase maintenance parts.
In December 2019, we added a chatbot function, launching a registration service for customer product information and a Q&A service regarding the membership website. Compared to the past when service personnel entered such registration information sent back from customers on postcards, such information can now be self-registered by customers, enhancing convenience for both parties. We are launching a new maintenance information service based on the registered information.
We have also begun responding to customer members' technical inquiries with the use of a chatbot function. We are engaged in initiatives to enhance convenience for customer members by regularly adding and updating Q&A content.

Membership Website (in Japanese)
*Japanese site services are available only in Japan.
Customer Satisfaction Surveys
FANUC America, FANUC Europe, and other overseas group companies conduct regular customer satisfaction surveys. In Japan, we conduct anonymous questionnaire surveys of customers that we attend on site, in order to reflect customer feedback in improvements to our services.
Support for Restoration from Typhoon Damage
In 2019, Typhoon Faxai and Typhoon Hagibis caused record storms and heavy rains in northern and eastern Japan. We have been supporting the restoration efforts of many customers who suffered flood and other types of damage in their factories. In addition to our service personnel, the employees at our laboratories and the Production Division also joined in to inspect the condition of all of the products in use and clean and repair them as necessary. As a result, among the 531 units that were damaged, we were able to quickly restore a total of 400 units that our customers wanted to restart immediately.
FANUC responds to disasters under our philosophies of "one FANUC", "Reliable, Predictable, Easy to Repair", and "Service First".