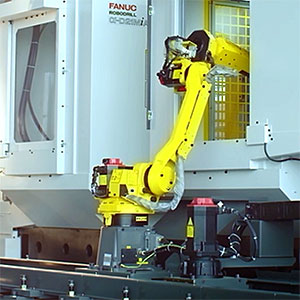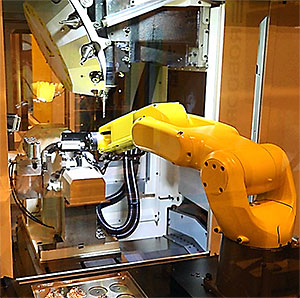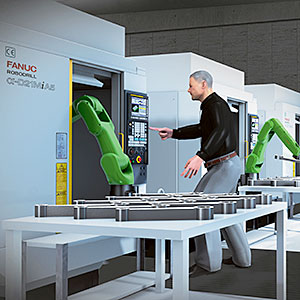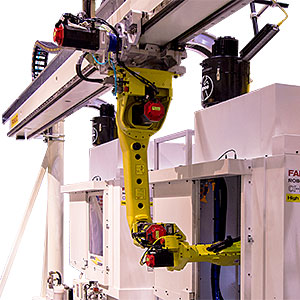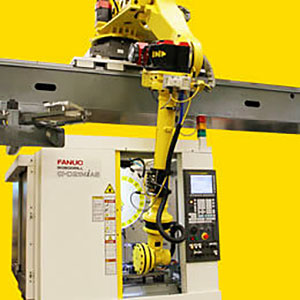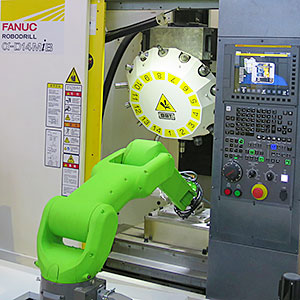 Application Examples of Robots for the Machine Tending Industry

Load/Unload for FANUC ROBODRILL Machine Tools
M-10iA, M-20iA

Load/Unload for FANUC ROBODRILL Machine Tools
(Top Mount Loader)
R-2000iB

ROBODRILL-QSSR with Collaborative Robot
CR-7iA/L

Various Application example: Laser cutting, Parts washing,
Parts handling and Super heavy parts handling
M-800iA, M-2000iA, R-2000iC, LR Mate 200iD, SR-20iA

Usefull software functions for Machining
LR Mate 200iD
Benefits of Utilizing Robots in the Machine Tending Industry
In the machine tending industry, robots are utilized and introduced mainly in load / unload process for machine tools because the robots are suitable for simple and harsh working environment, and also enable to help labor shortage and labor saving.
FANUC has a wide range of robot types and models such as compact high speed and high payload, which can be applied to all processes like load / unload for machine tools and inspection. Robots can be installed inside machine tools. With rail and gantry mounting options, robots are able to tend multiple machine tools.
Moreover, by utilizing QSSR (Quick & Simple Start-up), iRVision, Zero Down Time which helps to improve production efficiency, ROBOGUIDE simulation, and Servo Door for machine tools which can open and close at high speed, we can satisfy all the needs of factory automation.
The Most Commonly Used Robots for the Machine Tending Industry
Introduction of Robot Functions for the Machine Tending Industry