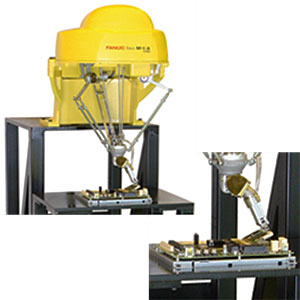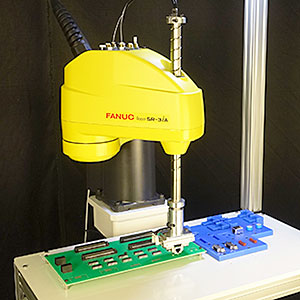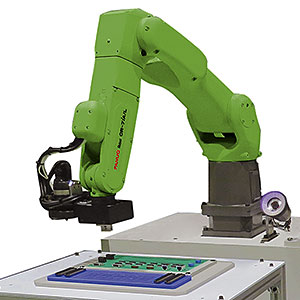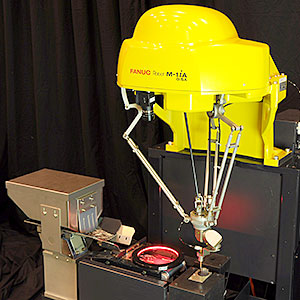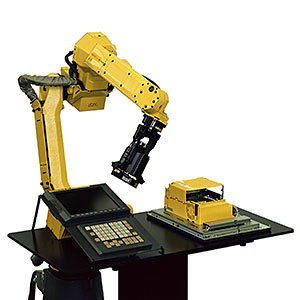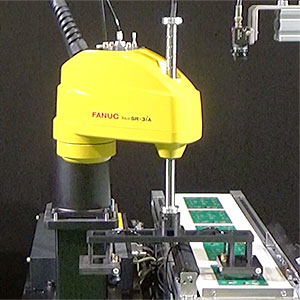 Application Examples of Robots for the Electrical and Electronic Industry

Electronic Parts Assembling System
SR-3iA、SR-6iA

High Speed High Precision Connector Assembling System
M-1iA/0.5A

High Speed High Precision Arrangement System of
Electronic Parts
M-1iA/0.5SL

Circuit Board Handling System
SR-3iA
Benefits of Utilizing Robots in the Electrical and Electronic Industry
In the electrical and electronic industry, robots are utilized and introduced mainly in assembly / screw tightening / electronic parts insert / transfer / inspection process because the robots are suitable for simple and harsh working environment, and also enable to help labor shortage, increasing productivity, and quality preservation.
FANUC has a wide range of robot types and models such as light weight and compact high speed parallel link robots and high performance SCARA robots, which can be applied to all processes. And the green collaborative robots allow for safe operation in the same workspace without safety fences.
Moreover, by utilizing iRVision, Zero Down Time which helps to improve production efficiency, and ROBOGUIDE simulation, we can satisfy all the needs of factory automation.
The Most Commonly Used Robots for the Electrical and Electronic Industry
Introduction of Robot Functions for the Electrical and Electronic Industry